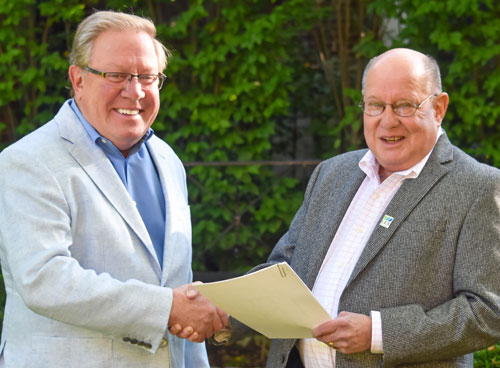 LexHistory Leases Space from Blue Grass Trust
October 24, 2022—We are excited to announce another important LexHistory milestone. LexHistory and the Blue Grass Trust have agreed that leasing the main floor of the Thomas Hunt Morgan House on North Broadway will accommodate LexHistory's exhibit space needs while being an excellent example of adaptive reuse in line with the Trust's preservation mission. The Trust will retain its administrative offices on the second floor.
"We're excited to welcome the Lexington History Museum to the Thomas Hunt Morgan House on the Blue Grass Trust Campus. Seeing our historic spaces vibrant, utilized, and sharing the collective stories of our city's past is historic preservation at its best. What a natural partnership!" said Dr. Jonathan Coleman, Executive Director, Blue Grass Trust for Historic Preservation.
For LexHistory, securing space to re-establish the museum is a major achievement as we continue to implement a four-year strategic plan that reimagines our future and expresses a renewed commitment to a bold mission, vision, and strategic objectives leading up to Lexington's 250th anniversary in 2025 and beyond. Earlier this month, we announced the hiring of Amanda Higgins, Ph.D., as LexHistory's new Executive Director.
"Leasing space from the Blue Grass Trust shows how working collaboratively can benefit both organizations—and the community at large," Dr. Higgins said. "It's a significant step toward returning to a physical museum. There's a great deal of work ahead of us first, but I'm excited about inviting people back to a museum dedicated to Lexington's diverse and vibrant history in 2023!"