UPCOMING
2023 LexTalks Events:
SUNDAY, NOVEMBER 5:
"Gatewood:
Kentucky's Uncommon Man"
Presented by author Matthew Strandmark. Sponsored in part by the University Press of Kentucky.
This event is FREE. 
Registration required.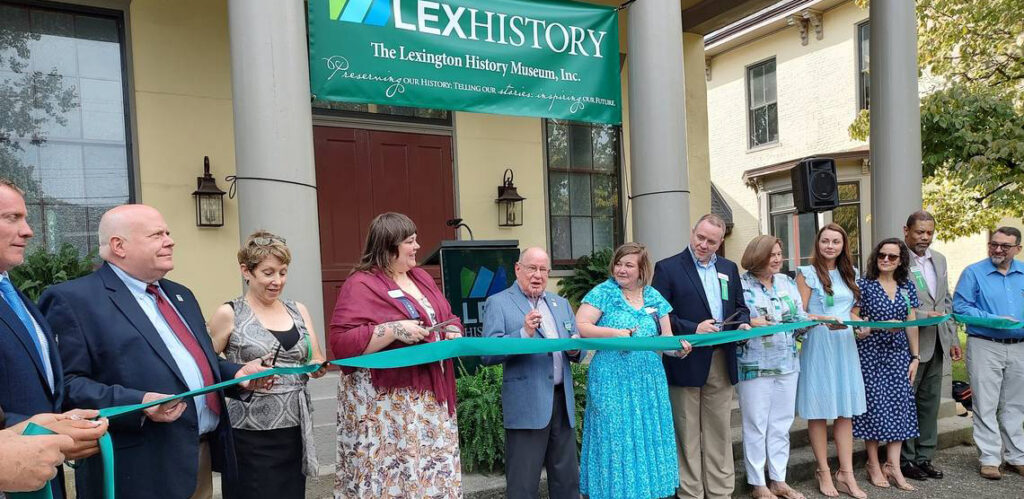 August 26, 2023—GRAND OPENING!
The Lexington History Museum has reopened to the public at 210 North Broadway in the auditorium of the historic Thomas Hunt Morgan House.  This reopening positions the museum to welcome visitors back to the beginning of a reimagined museum.  
"We are thrilled to welcome visitors and share Lexington's incredible history. Lexington deserves a museum where all our history—the known and unknown, the celebratory and the cautionary—can be told. I'm proud to be a part of bringing this valuable asset back to the community," said Amanda Higgins, Ph.D., Executive Director of LexHistory.
LexHistory's new space allows it to open to the public—individuals, group tours and school field trips.  This comes after more than a decade in storage and temporary spaces since being displaced from the Old Fayette County Courthouse due lead paint dust and mold issues.
Hours: Thur. & Fri. Noon-4:00 pm  |   Sat. 10:00 am-4:00 pm.
School & Group Tours available by appointment.
General admission: $10  |   Under 5 years: Free
Special rates available for seniors, military and groups.auditorium of the historic
June 4, 2023—LEXTalks:
Celebrating 60 Years of Lexington's Human Rights Commission
Our June event featured a roundtable discussion with Human Rights Commission executive director Raymond A. Sexton as well as current and former commission members. The panelists discussed the history and creation of the commission, its service to the community, and its plans for the next 60 years. 


February 9, 2023—We're Expanding Our Professional Team!
The Lexington History Museum—LexHistory—continues to make strides toward a re-energized, public-facing museum. We welcome a new Curator and Exhibit Manager as well as two Interns.
Our new Curator and Exhibit Manager, Katrina Dixon, is a native of Oneida, New York, and her professional experience has included a variety of work that will prove invaluable to LexHistory. Most recently (and locally), she was producer and archival researcher for ACME Films, LLC. Prior to that, she worked as a records and database manager at the Montpelier Foundation, which included responsibility for supervising curatorial research assistants and interns. Montpelier in Orange, Virginia, is the restored house and grounds of fourth U.S. President James Madison and First Lady Dolley Madison. READ MORE.
LexHistory is excited to have Dorian Cleveland and Clay Walton join us as spring 2023 interns. 
Cleveland is a senior majoring in History at the University of Kentucky. He has previous experience interning with the Filson Historical Society in Louisville, where he worked on the digital project, Sustaining Slavery. Walton graduated from Transylvania University in December 2022, with a degree in History. Walton is a docent at the Mary Todd Lincoln House during its tour season and awaits graduate school acceptance letters!
Cleveland and Walton will assist curator Katrina Dixon in cataloging and describing museum collections, helping to move artifacts into the museum, and working with the LexHistory team to design and mount new exhibitions

October 24, 2022—LexHistory Leases Space from Blue Grass Trust
We are excited to announce another important LexHistory milestone. LexHistory and the Blue Grass Trust have agreed that leasing the main floor of the Thomas Hunt Morgan House on North Broadway will accommodate LexHistory's exhibit space needs while being an excellent example of adaptive reuse in line with the Trust's preservation mission. The Trust will retain its administrative offices on the second floor. READ MORE
October 5, 2022—LexHistory Names Amanda L. Higgins, Ph.D., Executive Director
After a nationwide search, the Lexington History Museum—LexHistory—is pleased to announce the hiring of Amanda L. Higgins, Ph.D. as its new Executive Director.  Dr. Higgins has worked for the Kentucky Historical Society since 2015, most recently as its Community Engagement Administrator beginning in 2016 and managing the Kentucky Local History Trust Fund and the Kentucky Oral History Commission among other responsibilities. READ MORE
May 10, 2022—Welcome to our relaunched newsletter, The Bluegrass Historian (view as pdf), which originated as a small format newspaper in July 2000. The newspaper versions were edited and published by Lexington History Musuem's first Executive Director, Ed Houlihan. Ed was instrumental in the Museum's original vision, establishing it in the old courthouse building and guiding it during the early years until his death in 2008.